On the forum, we were talking about animating images like THIS talented photographer. Now this tutorial I'm posting here is nowhere near as glamorous, but it certainly will do the job. I encourage you to start SIMPLE, then move on to people and other subjects that are more challenging (like that awesome skirt with shadow in the example link). As you can see, mine is very simple – just two images animated to make her blink.  For this tutorial, I am using PSCS3.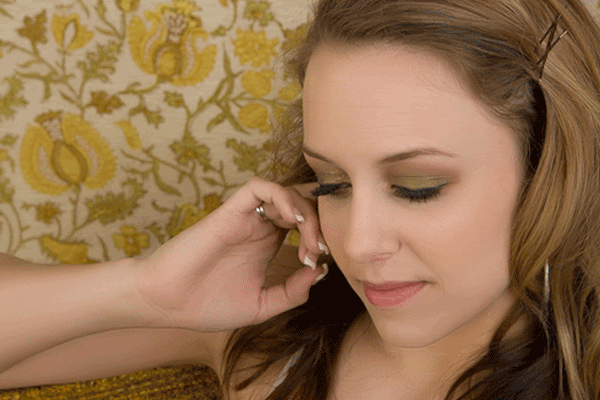 First, I really recommend setting your camera on a tripod and using a setup that has one primary "thing" that doesn't move. In my example here, I have a person sitting in a chair. She is not moving….just sitting there in the same position for a series of shots to be taken. I only took 2 shots since I'm showing you how to make her eyes blink. A more involved animation, such as a child swinging, would require multiple exposures.
So once you have your scene all setup, got your exposure all set, you can begin shooting. Depending on what your moving subject is and just how fast that subject will move in the animation, you may determine that it is best to use the rapid-fire option as opposed to the single shot option. For this, I used the single shot option since my adult model was sitting still. However, for that child swinging…use the rapid-fire.
Now you will take a series of shots, all without moving your camera and all with the same exposure settings. Take as many shots as you think are needed. The bigger the movement, the more shots you will need to complete the sequence and have it flow smoothly. For example, if you try to animate a person raising and lowering their arm, and only use 2 images, it will be choppy – up/down, up/down. But if you use 10-15 images, it will look more natural and realistic as the arm flows upward and then gently back downward. In my example, the person is not moving other than to blink so I only require 2 shots.
So the shots have all been captured and it's time to start the fun. First, you will import all the images into LR or ACR and do a global edit so that the WB and tone is the same for the entire series of images. When done, export the entire series to Photoshop as JPGs. I exported mine as JPGs in the final size that I wanted to display the animation (600 px wide). If you decide not to resize your images at the export stage, you will have to resize them all in Photoshop as this is where you will make the animation.
Open up all the images and copy/paste them all onto one canvas. They need to be layered in the order you took them. So image 1 will be on the bottom of the layers palette stack, image 2 will be on top of that, image 3 will be on top of image 2, etc. So here you can see I have my two images:
You may need to use layer masks in order to only have the "moving" portion of the image visible. In my example, I had to mask out everything except her eyes and also had to reconstruct a small portion of her finger that was hidden behind eyelashes in one layer, but visible in the next layer.  The masking can take quite a bit of time, especially if you have several layers.  The more careful you are with your masking, the more realistic the resulting animation will be.  So take your time…
Okay, so you finished all the masking of every layer (except the bottom most layer).  But before we can actually begin the animation, we need to have all the layers fully intact…it can't be a full image on the bottom and then a bunch of masked layers on top. So we will need to merge each masked layer with a duplicate layer of the bottom most original image. So first make a duplicate layer of the bottom most background layer, select that layer and the masked layer, then merge just those two layers together.
If you have 10 images in your animation, you need to make 9 copies of the bottom most layer (one copy for each masked layer in your stack).  Then merge one of the copies with the first masked layer, merge another copy with the second masked layer, merge another copy with the third masked layer, and so on.  Reason for this is that you can't show the transparent background in your animation. So by merging each masked layer with a duplicate copy of the bottom layer, you will not have the transparency issue.
Now you can get a preview of what your animation will look like simply by turning off the visibility eye of the top layer, then turn it on again.
Now go to the Options bar at the top of the screen and click on Window>Animation.
When the palette is open, look in the lower right corner and click on the icon "Convert to Frame Animation". Here is where you will see each layer in your stack.
At first, you will only see one layer – whichever layer happens to be activated in your layers palette. So click on the fly-out menu in the upper right corner of the animation palette. Click on "Make Frames From Layers". Every layer will be displayed now and you will see that each has an amount of time displayed at the bottom of the frame.
Set each frame time to .2 sec by clicking on the time and changing it.  If you want to have a bit of a pause in between blinks, set the second frame for a longer amount of time.  In my example, I set the first frame to .2 sec and the second frame to 5 secs.
In order to have the animation continue to repeat, you need to change the setting in the lower left corner.  It defaults to ONCE, so you will want to change that to FOREVER in order for the animation to loop around back to the beginning for continuous play.
Now click the PLAY button at the lower left of the animation palette. You will see your image move. If it's too fast, change the time on each frame til you get it where you like it.
When you are satisfied with the animation, you need to save it as a GIF. Go to File>Save for Web and then change the PRESET to GIF. For optimum quality, you need to set the dither to 100% and the colors to 128 or 256.  Then choose a location on your computer to save the file to.
Lastly, you will have to upload the GIF file to a photo sharing site that supports animated GIF files. Photobucket does, but I'm not sure about Flickr or other sites.  Now you can share the animation link on your blog or Facebook or forums or by email…you get the drift.  ;)  Have fun playing with this.
Email Us | Find us on Facebook | Subscribe to our Blog | Tweet with us